ZANSKAR KANISHKA TOURS & TREKKING!
30 Years experiences in the tourism industry with custom tailored tours to suit every budget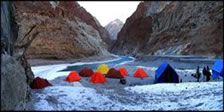 We are local tours operators & Trekking Agency from Zanskar; in Manali, we organized for group or individual for Trekking & Expedition in Zanskar, Ladakh, Spiti, Kullu-Manali, and Nepal; we provide our services from New Delhi International Airport. We do special welcome on your arrivals to India with (Khatakh) further by A/C Car transfer to Hotel in- Delhi for rest day) We have been providing excellent services for our clients since- 1994.) We also organized local Delhi Sight Seeing by A/C and Non A/C Car We also organized visit to Agra Taj-Mahal) We book Air Tickets Delhi to Leh & Leh to Delhi and Kullu Manali. We also book A/C Vol-Vo-Bus Tickets Manali to Delhi) we also guarantee the best services with most respectful local staffs for your trip to make it memorable in your life time.
Our company is recognized under the tourism Department Government of India (Rgd) No.0 53.2/16/94 )
WHAT ARE THE BENEFITS OF EMPOLYING ZANSKARIS ?
Employ Guides with intimate knowledge of the areas you want to visit. This is especially important for trekking off-the-beaten-track and winter trekking on the Zanskar River. Many of the Zanskari's you employ will have family and friends in the villages that you visit –you will have the privilege of experiencing Zanskari hospitality first hand. By employing Zanskaris you have a greater chance of experiencing and understanding Zanskar's traditions, cultural heritage and contemporary issues. Your visit to Zanskar becomes more than just a walk through a 'living museum'. We also do social work in Zanskar Valley for public benefit, for such promote the education & Health. Our Company's yearly income of 25% we used for publics project" in Zanskar, valley. If you wish to share with us to help for Zanskari, poor family you are most welcome to joint with us today.